There are four ways to add a new inspection:
1. Open 'apiaries' and click on the pen icon at below the hive to add a new inspection
2. Open 'hives' and click on the pen icon at below the hive to add a new inspection


3. Open 'apiaries' and click on the looking glas icon below the hive to open the inspection overview, where you can add an inspection
4. Open 'hives' and click on the looking glas icon below the hive to open the inspection overview, where you can add an inspection


The checklist is divided into a number of chapters: Bee colony, Food, Disorder and Production.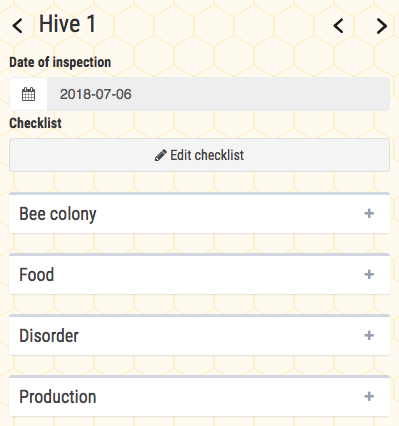 Click on the name of the chapter or on the + to see all inspection items that you can fill in. There are more available. Click here to learn how you can customise your checklist. Below you can see an example of data that you can enter. There are topics that expand further if you have filled in something.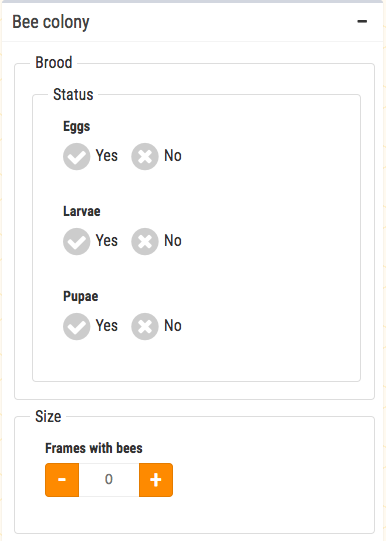 At the bottom of the checklist you find a chapter called 'Overall'. Here you can fill in information about the general state of the colony, as well as reminders. This information is shown on the hives overview: a smiley for the overall impression, an exclamation mark when extra attention is needed, the date of the reminder and the text of the reminder.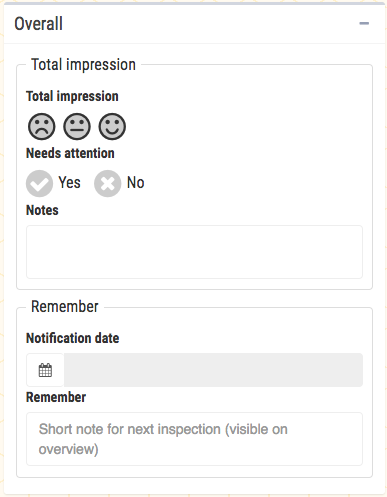 You do not have to fill in all the fields. You can only fill in what you have seen and done. After filling in, click on 'Save inspection'. There is no so-called autosave function. Only entered data will be shown in the inspection overview.