BEEP offers a standard list but you can also design your own checklist. You can choose from a list of topics for which you can enter data and notes. We recommend to do the checklist configuration on a larger screen such as a desktop or laptop computer. The checklist applies to all hives for your account. 
How it works
Open a new inspection for one of the hives and then click on 'Edit checklist'.

First, fill in a name for your checklist. You can select items from the tree structure to design your checklist.
You can expand and collapse by clicking on the arrow to the left of the topic

. The topics that are already on your inspection overview are already ticked (i.e. selected). Note: if you tick a main topic, all underlying branches are also selected. You can untick the boxes that are not interesting for you.
If you untick a topic, it will be removed from your digital beekeeping inspection sheet in your BEEP account. If you have already entered data, they will be retained. And all the data that you have stored in inspections can be found in the inspection overview per hive. You can therefore tick or untick items to add or remove them from your personal inspection sheet. If you tick a subject, the topics it is linked to higher up in the tree structure are always selected. This ensures that your inspection sheet is logical and easy to use. See an example below.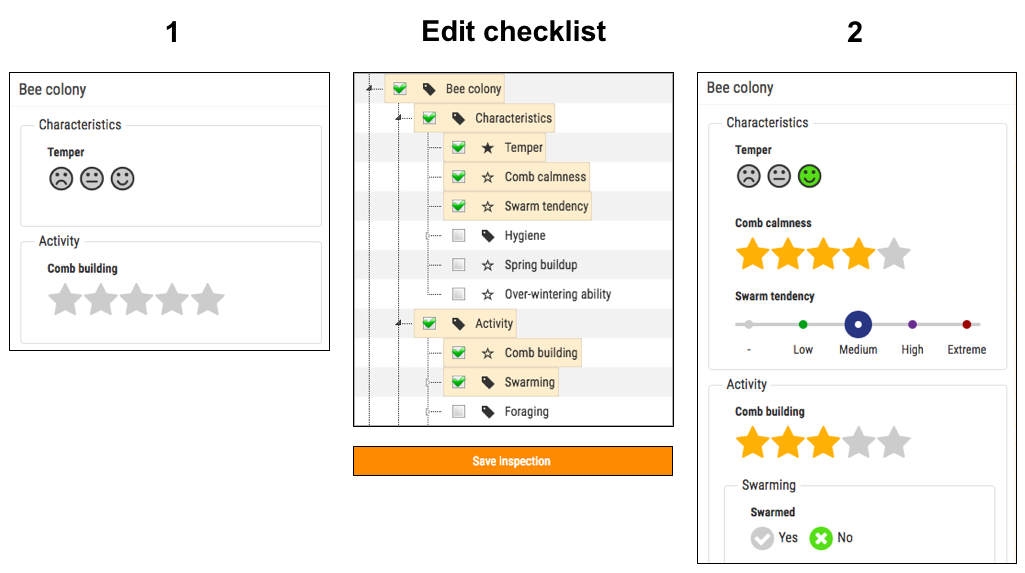 Adjust the order of the items
You can also adjust the order of topics. You do this by clicking on a topic and dragging it to the desired location. Because of the logic in the tree structure you can not drag it everywhere. The following icons indicate where an item can or cannot be placed:

and

. When you have found the right spot, release the mouse button (on computer) or finger/pen (on touch screen).
Search
The tree structure is quite extensive. It offers many possibilities to customise your inspection sheet. To find something easily, you can use the search function. If you enter a term in the search field, all items that contain the search term will be coloured red and be expanded. Then you can tick the subject you want to use.
When you are done, click on 'Save checklist'.
Overview of BEEP data categories
An extensive list of items is available in a tree structure. We call it the bee data 'taxonomy'. Around 200 items are available excluding the options in option lists, adding up to about 500 items in total. Subjects include the bee colony, disorder, food, production and weather. Each subject contains multiple topics in a logical structure. As no standard exists for bee data, it has been compiled by the BEEP team from a range of sources such as paper record keeping, COLOSS Beebook, Healthy-B toolbox, FAO honeybee diseases, Apiservices.biz glossary, Beebreed, Imkerpedia and Wikipedia. See a thumbnail of the available categories here below. Click here for the full version (pdf/Engels).